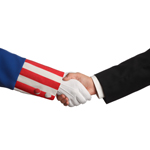 August 23, 2013 2:44 pm
2 Comments
Anyone in the US working for the Government – especially for the Dept. of Defense, Dept. of Homeland Security or most Govt. space agencies – has to satisfy Defense Contract Audit Agency (DCAA) requirements and federal acquisition regulations (FARs). Sometimes, commercial organizations sub-contracting to other companies providing goods or services to the Government also have to meet these requirements. As you can imagine, these regulations are complex, long and full of three letter acronyms, such as DoD, DCMA, GAO, CAS, FACs, DFARS, GAGAS, CAM, FAO, and MMAS.  Exhausting, isn't it? (If you're really interested, we've listed the full versions of the acronyms below.)
These requirements are managed and policed by the DCAA to protect you and I, the tax-payer, to stop the DoD from buying another legendary $400 hammer.
To a contractor, consultancy or engineering company providing direct or indirect services to the DoD, the DCAA requires that your procedures, data and systems adhere to specific guidelines, principles and regulations. We're interested here in system and business management software requirements.
The good news is there are plenty of online resources (including some light bedtime reading in paragraphs 5-908 & 909, and of course, this blog) to help you understand how to meet such requirements. The bad news is that to protect their independence, the DCAA does not provide advice or consulting to commercial companies on how to meet their requirements.
So how do you ensure that your business management software – covering aspects such as project delivery, timekeeping, billing and accounting – meets DCAA requirements? Can you get software which is DCAA certified?
Contrary to popular belief, the DCAA does not certify business management software. The DCAA might audit you – the contractor – including your processes, data and systems, but any software claiming to be pre-certified is perhaps referring to certification from the other DCAA (Digium Certified Asterisk Administration). That said, if you are using software to manage your timekeeping, accounting or billing then you should be aware of relevant DCAA requirements and whether your software meets these requirements.
We're going to focus on timekeeping software because iBE.net has a time-keeping module, and part of the purpose of this blog is to point out that iBE.net's timekeeping module satisfies all DCAA requirements. We will discuss DCAA requirements for billing, accounting, purchasing and materials mgt. in another blog.
DCAA's timekeeping requirements (taken from this government document) in a nutshell are:
Daily or weekly recording of all hours worked (both direct and indirect, billable or not)
No advanced booking of time
Only book to approved or pre-assigned task, project or charge codes
Accurate identification of employees (e.g. social security number on file)
Employees review and agree that their timesheets are accurate – some kind of physical or electronic signature, or password controlled access is adequate
Authorized persons such as supervisors review and approve employees timesheets after viewing the whole timesheet (supervisors cannot approve their own timesheets)
Monitoring of late, missing or delinquent timesheets
Monitoring or reporting on labor distribution
Systematic audit trail with user/date/time stamp on system updates
Often comments are required for timesheet rejections and corrections
In the case of cost-plus contracts there are additional requirements to prove that employees have been paid what was stated in payroll records and that their timesheets reconcile with payroll and attendance hours.
Meeting these requirements is a big deal for the DCAA because labor costs account for a significant portion of the DoD and other Govt. department's external spend, and it is fundamentally hard to keep track of what everyone is doing and for how long. If you don't have a timesheet system, then you must maintain equally accurate manual records – an administrative nightmare if you have more than 25 employees or contractors working on your project. Even if you have a super system like iBE.net to keep track of everyone's time, some DCAA auditors still ask for printed copies!

iBE.net provides time management systems for commercial, non-profit and govt. contractors, especially consulting and professional service providers. Our software satisfies all the above requirements: it is secure, timesheets are recorded by day on a weekly basis, and employees can only book to task or project codes they have been assigned to as a resource. Approval paths are extremely flexible and customizable, with multiple approvals and check and balances to prevent people from approving their own time. Approvals and rejections – for which comments can be set as required – can be entered via our web app, your mobile phone or email. Finally iBE.net monitors late, partial and missing time and has a wide range of reports for work-schedule hours vs. attendance vs. timesheet hours – direct and indirect – to keep track of everything.

Click here for more information about our time keeping software.

DoD (Dept. of Defense)

DCMA (Defense Contract Mgt. Agency)

GAO (Govt. Accountability Office formerly General Accounting Office)

CAS (Cost Accounting Standards)

FACs (Federal Acquisition Circulars)

DFARS (Defense Federal Acquisition Regulation Supplement)

GAGAS (Generally Accepted Govt. Auditing Standards)

CAM (Contract Audit Manual)

FAO (Field Audit Office)

MMAS (Materials Mgt and Accounting Systems)

NMTLAPs (no more three letter acronyms, please)

Tags: DCAA, government compliance


Categorised in: Feature Article, iBE.net, IT systems, Professional Services, Time Management

This post was written by admin

Try iBE.net for free - run your business from the Cloud