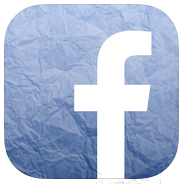 February 7, 2014 3:22 pm
Leave your thoughts
The King of Distraction is once again feeding our addiction to social media by reintroducing us to being focused.  Cue the ironic sound track.  That's right, with the launch of Paper, Facebook has reimagined it's entire user experience to make a social network look and feel like receiving a personal note from a friend.  I am not saying that a status update will ever come close to the replacing the excitement generated by a hand written letter physically deposited in your mailbox.  However, Paper goes to great lengths to create an intimate environment for catching up on the latest news from your closest friends.
The Joys of Opening Someone Else's Mail
I was once introduced to a wonderful series of books by Nick Bantock called The Griffon and Sabine Trilogy.  In the books, Griffon and Sabine correspond and subsequently fall in love, first by postcard and then by letter. There were two things about this series of books that made them memorable.  First, Bantock is an artist who fills every inch of the page with stunning designs.  Second, you could flip through the pages to find the real back of an envelope containing an actual letter you could remove and read accompanying the front image of every envelope.  It was deliciously voyeuristic and incredibly engrossing.  The Paper interface creates much of the same effect.  The design itself is flawless. Gone are the boxy blue panels of ads and apps, which now seem like a prison when I return to the Facebook web app. Flick a post of interest upward with your finger and it automatically fills the screen.  Swipe right or left to scroll through the newsfeed without leaving the distraction free zone.  You can even unfold articles and news items in the same way you open an envelope.
Reinventing Facebook's Value
All my friend's and even a previous blog or two will convince you I have a certain habit for railing against Facebook.  It is at its worst a productivity sucking narcissism encouraging addiction changing the ways we interact with other humans in deplorable ways.  At its best, Facebook provides a wonderful mechanism for maintaining and fostering friendships with people both in your immediate vicinity and around the world.  To concentrate on the good and mitigate the bad, I have long since been forcibly filtering Facebook.  This labor-intensive effort has been a cumbersome process of culling the trivial over-posters from the newsfeed, only accepting friend requests from people I want to be talking to, and the coup-de-grace, selecting a small group of close friends as the only people who appear in the notifications.  Then I only log into Facebook when the push notification alerts me that someone I care about has sent something I might want to read.  Now that Paper has freed me from dizzying panels of the superfluous, I find myself in a state close to social media Nirvana.
Facebook Does the News
The feature of Paper that I was most curious about is Facebook's new approach to the news.  As you setup Paper, in addition to the headlines, you can add public feeds on a variety of topics—one of which is just labeled "cute".   My favorite is the Tech Section that will keep you up to date with all things Tech throng worthy.  I haven't done more than dip a toe into the news section feature yet, but my quick preview gives me the confidence to make an early prediction.
Facebook is clearly winning the Internet.
Categorised in: Mobile, Technology Trends
This post was written by admin
Try iBE.net for free - run your business from the Cloud