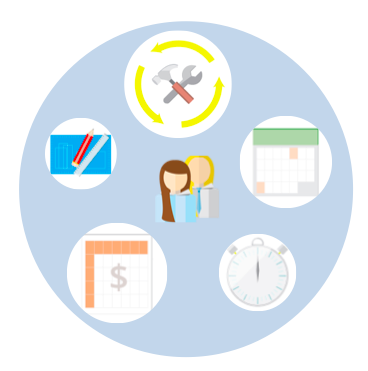 February 19, 2014 10:42 pm
Leave your thoughts
The management of resources to deliver optimal revenue is the holy grail of any consultancy. Consultants are generally expensive resources and any day not spent billing a client is a lost opportunity. Like a seat on a plane or yesterday's newspaper, there will never be an opportunity to sell that day again. Consequently, once macro level business planning has been completed, the focus of the consulting manager must shift to the tactical planning of projects and resources.
Running a lean enterprise is the goal of all IT and Business Consultancies, but can leave an organization vulnerable to changes in demand caused by delays, schedule changes or unexpected new wins. Failure to provide staff with the right skills will adversely affect delivery, causing further delays, and even resulting in permanent damage to the firm's reputation.
However, ensuring that there are sufficient resources available, with the appropriate skills and experience to cover all possible outcomes, is an expensive proposition. It means that the margins on engagements must be sufficiently high to compensate for the resources that are being underutilized. So, managers of consulting businesses find themselves between a rock and a hard place: too few staff and they are unable to deliver contracted work, too many resources and they go out of business.
Planning is the hallmark of successful consultancies; the visibility of supply versus demand is essential. As soon as schedule changes are made, or as soon as new projects are signed, those dates are visible to managers and HR. Managers must be empowered to make the best possible business decisions based upon the information available.
With business planning being an information-based activity, the visibility of accurate and timely data is key, which means that technology has a role to play. If the quality of the data is poor, or is locked away as "silos" of information in personal spreadsheets, the quality of the decisions will also be poor.
Still, scheduling is only half of the issue, since consultants are not simply "resources". The management of consultants is a difficult job. The best invariably have huge egos and those who have hot skills are very well aware of their value to the organization. Consultants need to be treated more as expensive assets as opposed to resources. Every employee should have clear lines of reporting. The line manager should be responsible for longer-term career goals as well as short-term performance of the individual. It is essential that to police this relationship to ensure that regular reviews take place and the required training or professional development is appropriately scheduled. This not only results in the development of the company's assets, but it also helps identify poorly performing individuals so that constructive action can be taken.
The past five years have moved away from traditional Human Resource Information Systems (HRIS) covering off typical employee administrative functions to systems focused on Talent Management. These systems provide a platform for managing statutory required or corporate HR information, and can also enable accurate feedback from a range of sources (including clients) to be captured and input into the process.
That is not to say that basic HR information is not important. Storing personal, business and contract data (including W2s, I9s, etc.) in one secure place is a great start. Using additional data such as shifts, absences and rates for optimal workforce management can provide more visibility, and therefore be of greater benefit to the organization. For example, get the vacation allowance of your top consultant wrong, and he/she will spend a morning on the phone with HR and his/her manager correcting the mistake as opposed to focusing on his customer and project
To achieve better results within the area of scheduling and resource management and increase your overall visibility, our recommendations are to:
Ensure the collection of data is as easy as possible. Build this into existing processes, such as collecting estimated end dates when booking hours.
Have one source of information. Sharing a common spreadsheet on a shared drive is a start, but integrating this into the scheduling, recruitment and staffing processes is a far better solution.
Make information available to all stakeholders. The use of KPIs, graphical dashboards and common metrics will make the data more digestible to the multiple interested parties.
A performance appraisal system should be used to manage the careers of the consultants, as well as input into the scheduling process.
Talent managements systems where data on past assignments, manager and client feedback, as well as career goals, are useful for managing the company's employees.
Tech Trivia Answers:
1) Flappy Bird 2) Evan Spiegel 3) SAP 4) 2 Years 5) Google
Categorised in: IT systems, Professional Services
This post was written by admin
Try iBE.net for free - run your business from the Cloud