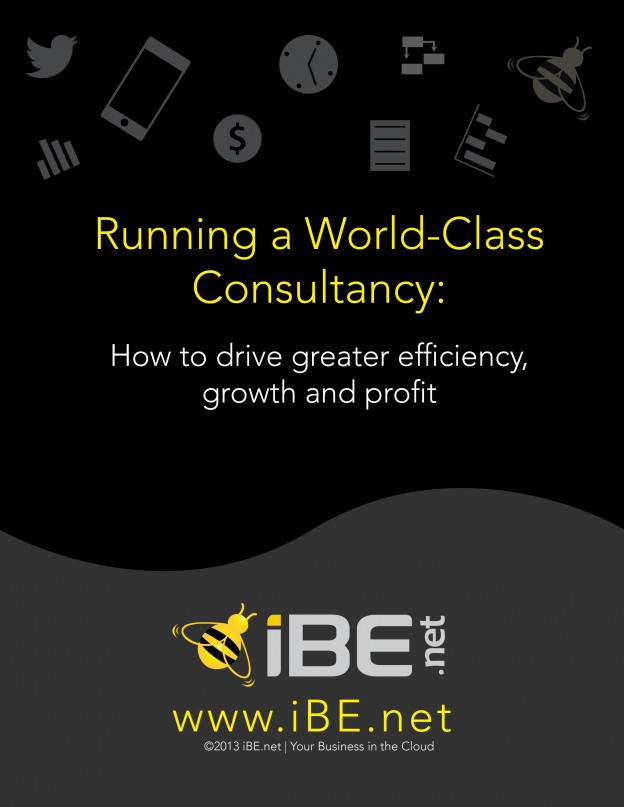 February 4, 2014 5:04 pm
Leave your thoughts
Yesterday, we released a new eBook from iBE.net co-founder and ex-consultant Simon Hopkins called Running a World-Class Consultancy: How to drive greater efficiency, growth and profit. With 20 years of ERP experience under his belt, Simon offers unique and practical insight into how consultancies can transform their operations to significantly improve their bottom line.
Check out the preview below, and download the eBook here for free.
– –
Over the past half-century, there has been a dramatic shift to a service-based economy. Just as technology revolutionized manufacturing, we are starting to witness how the Professional Services industry, in particular, is changing. Every aspect of how services are sold, consumed and delivered has been impacted by technology. Technology has even been an enabler for new lines of service, or different delivery channels for traditional services.
For a Consulting business, technology has the ability to streamline operations, drive efficiencies, and ultimately deliver bottom line results; one report quantifies an 86% improvement in EBITDA. However, the anecdotal truth is that IT and Business Consultants are not poster children for the use of technology within their own businesses. Too many rely upon a patchwork of outdated systems, manual processes, email and Excel.
This eBook will focus on the anatomy of the consulting process. In order to understand how to run an efficient consultancy, it is important to first recognize how technology is transforming the way that Professional Service firms operate, delivering benefits to managers, consultants and clients.
Categorised in: Uncategorized
This post was written by admin
Try iBE.net for free - run your business from the Cloud