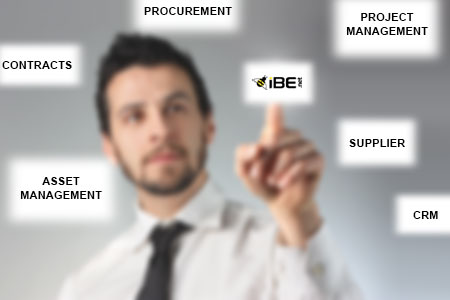 October 21, 2015 6:09 am
Leave your thoughts
I wanted to draw your attention to four exciting new developments we are working on, two (CRM and project mgt) being major upgrades to our existing applications and two (purchasing and asset mgt.) being new modules. At iBE.net our development team is continuously improving our product and our customers are always making suggestions so we focus on customer requests which fit our product roadmap or product strategy. Since our vision is to expand beyond "time and billing for consultants" to a true ERP it is hard for a customer to request something which is not in our roadmap. As we build new features it is the perfect time for companies, whether using iBE.net or not, to make suggestions and submit ideas. So I enthusiastically invite you to add comments onto this post with suggestions, or more privately email me at richard.minney@ibe.net with your thoughts.
Project Management
iBE.net has built a world-class project management module which combines an intuitive user interface to set up new projects in minutes with extensive coverage for a typical professional services' firms project management needs including task hierarchies, resource planning and utilization, budgeting and costing, fixed/retainer/usage or time & materials based pricing and billing, time and expense tracking, project profitability and tracking of customer funds. We have been asked many times during demos about a Gantt view and by one two prospects about integration with MS Project. With that in mind we will shortly be releasing the following enhancements to our project management module:
Gantt task view with interaction to move tasks as well as updating dependencies, resources, durations and % complete from the Gantt view directly
Improved user interface with increased flexibility to turn on and off tabs and a new "MILESTONES" tab where you can specify billing milestones, dates and amounts without hopping back and forth between tasks, rates and resources tabs
Import and export to mpp files (the standard used by MS Project and others)
Time-line based planning allowing you not only to plan resources at task level based on planned hours or utilization factors, but to discretely distribute planned efforts or budgets and even planned outputs or deliverables manually over the project or task timeline
Time-line based distribution of budgets and forecasts as well as graphical and analytical reporting of project budgets, forecast or planned revenues and actual costs and revenue over the project timeline
Project status reporting (benefits, issues and risks can be developed later if a customer requests it)
Improvements to our resource planning tool including data caching to speed up the load and more options for updating workload assignments and project schedules from the resource planning view, as well as a calendar view.
CRM
Up until now our CRM lagged behind our core time and billing modules in maturity because it was a more recent addition and partly because so many of our clients were either stuck with, or happy with, Salesforce.com. We are fully connected to Salesforce.com by the way and intend to continue this in the future. But more and more clients, including our own sales team, are using our CRM module over other options because they want a "one stop shop" and do not wish to jump between systems to manage their data. That's our core mission, to help you run your business with fewer apps. You run one business so why not run one app?
So we working hard on enhance our CRM in line with the best CRM-only offerings available in the market, and at the same time leveraging our integration with the rest of iBE.net. For example you can configure opportunities in iBE.net to automatically generate projects either when they are sold/closed (e.g. as a delivery project), together with the opportunity based on sales stage (as a quotation project) or at the start (as a sales campaign or project). This integration is only possible because with iBE.net you can run project management, consulting operations and CRM out of the same platform.
At the same time we are upgrading our contacts, customers and opportunity apps to improve load times, clean up and simplify the user interface and improve the flow of data such as contacts between applications and between iBE.net and your contacts, calendars and emails in your company's Gmail, Outlook or Apple Mail database. First with contacts we are providing features to sync with your address book, quickly add reminders and follow-up tasks, edit key info and trigger follow-up actions directly from the contact list without having to go into details. We are also supporting tagging of contacts to assign each contact to one or more lists for email campaigns in the future. Opportunities will come with improved dashboards and pipeline reporting as well as the option to automatically create quotes, send emails and schedule meetings natively from within iBE or from your favorite email or calendar application, with two-way calendar sync to supplement our existing calendar integration via ICS meeting files. Our customer application was recently enhanced but will be speeded up as well as forming the basis for our supplier application (see next section).
Purchasing
Several clients of iBE.net are recording vendor bills in iBE.net as expenses and we have already delivered a couple of enhancements to record vendor or supplier on expense report header, and to allow the configuration of different expense report types one for employee travel and one for vendor bills. This allows you to distinguish between travel expenses and vendor bills with respect to document numbering, approval workflows, reimbursement not being applicable to vendor bills, and expense types and policies. But this alone is not enough for larger clients because it does not allow you to record the decision to purchase a product or service prior to taking delivery or and then receiving a bill for that service. This is what the new purchasing module is about. It will cover the complete procurement life-cycle from requisition to purchase order to recording delivery or receipt of a product or service to the vendor's bill to payment of that bill, and a happy supplier. Customizable approval workflows will be supported at each stage of the cycle. Requisitions will be designed to make it easy for occasional users to search product catalogs and request products, automatically routing them to buyers to source either based on pre-existing supplier contracts or requests for proposal from multiple competing suppliers. Once a supplier is selected it will be easy for a buyer to convert the requisition into one or more purchase orders or add requisition items to an existing purchase order, with automatic printing of the purchase document in your own format together with relevant terms and conditions and other documentation references. If the product or service needs to be received this will be the next step and the vendor's bill will cross reference both the purchase order and the receipt, though in many cases we expect people to skip the receipt and match the supplier's bill against the purchase order with AP invoice approvals. Finally payments can be recorded with plans at a later date to further enhance our payments module through payment system integration to automate payments using tools such as Paypal, Stripe or Synapse. A supplier portal may be added at a later date, plus special features for handing the procurement of sub-contract labor and services.
Asset Management
Professional services firms are not "asset-heavy" though in many engineering-related service industries there is a need to keep track of all kinds of assets from laptops and cars to expensive equipment used out in the field for testing, repairs and production. Keeping track of all these assets, from a project or purchase order to acquire the asset in the first place, through its usage with corresponding ownership and location changes, depreciation and maintenance, through to eventual retirement, is a challenge for many organizations. Our asset mgt. module will start very simply as little more than a glorified list but our plans are to add features for depreciation, maintenance, vehicle-specific properties such as mileage, and service bulletin tracking, not to mention keeping track of files, attachments, photos and videos throughout the asset's life-cycle.
Categorised in: Asset Management, CRM, iBE.net, Procurement, Project Management
This post was written by admin
Try iBE.net for free - run your business from the Cloud