Introduction
Roc is a leading global Human Capital Management (HCM) specialist consultancy. With 170 people and operations all over the world, roc has consultants working in a wide range of industries, bringing their innovative approach to projects, helping our customers solve business issues within the HR and Talent Management arena. Roc was using replicon to collect time and a number of different systems including microsoft project and spreadsheets to cover billing, accounting, and project management.
Challenges
With each country practice was using different systems, ROC's senior leadership under Jerry Chilvers CEO had no real-time visibility into the business and getting updates on consulting practices, clients and projects required a constant flurry of emails, stitching together data from multiple sources, and sometimes guesswork. Furthermore as ROC works extensively with SAP they wished to implement it for back-end accounting and needed a front-office system for their consultants, project management and admin team which integrated seamlessly with SAP. Their current systems did not do this and customizing them would be an expensive and time-consuming effort.
Solution
iBE.net presented ROC with all-in-one solution which not only met their needs, but which was flexible and customizable enough to fit their different business requirements. Coming from using SAP, iBE.net was totally intuitive from the outset. "Our consultants could enter their time and expenses right out of the box with no training, just log in and go" said Jerry. "The team at iBE.net customized the solution to meet our needs in the US and the UK and provided a constant line of support to our admin staff for things like HR and billing, and on occasion if a consultant had a question or issue iBE.net would quickly respond, but mostly the implementation and take-up was quick and easy."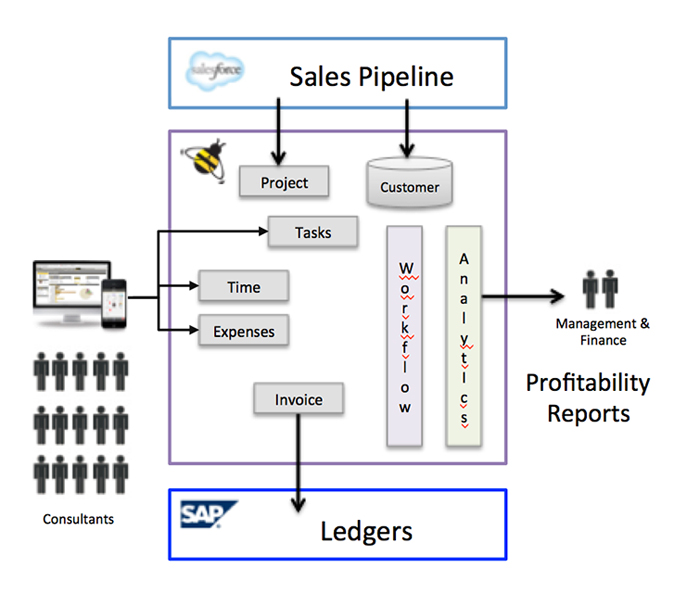 ROC solution based around iBE.net is quite complex with closed opportunities and leads being fed into iBE.net from Salesforce.com as projects, project management, resource utilization and project profitability tracking being managed in iBE.net, along with time, expenses, people and time-off, billing carried out also in iBE.net and then consulting expense reports and customer invoices fed automatically into ROC's SAP system. iBE.net also provided global features such as multi-currency and multi-country support for ROC's international business. "The seamless integration into our SAP financial system removes a lot of double entry in the key process of invoicing clients" adds Jerry
Benefits
With iBE.net ROC now has more control over their projects and real-time global visibility into the revenue and cost for each client and project, as time and expenses are collected and approved. Everything is managed in one environment with seamless integration to their SAP back-end, avoid duplicate data input. This not only results in more accurate invoices, but reduces the time it takes ROC to bill clients each month, improve cash-flows in the process. iBE.net has also helped ROC to improve overall consultant utilization. "Lots of companies take about business or process automation, but very few deliver it from end to end. iBE.net does" concludes Jerry.